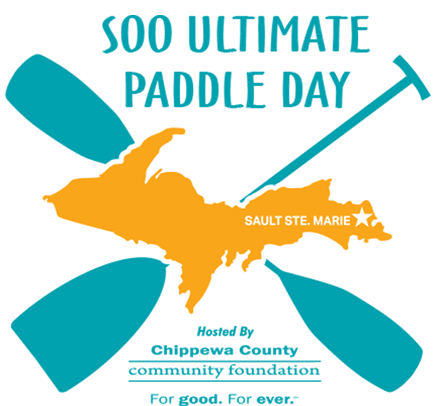 Saturday, august 17, 2019
ROTARY ISLAND PARK
Thank you to all of our sponsors that help make SUP Day possible!
[logo-carousel id=default]
The Chippewa County Community Foundation (CCCF), in partnership with Bird's Eye Outfitters, is excited to bring you the newest outdoor-paddling event to Sault Ste. Marie. On Saturday, August 17th, 2019.
What is SUP Day? SUP Day is an all-day event that celebrates "The Soo" as an outdoor-paddling destination for all to enjoy. A group of outdoor enthusiasts have planned a day on the water with something for everyone. Rotary Island Park will be the main staging area for all the events.
Shorts Brewery Beer Garden
While enjoying all that SUP Day has to offer, stop into the Short's Brewery Beer Garden and sample the latest flavors on tap. Whether you are interested in something light and crushable or something big, boozy, and delightful, Short's will have you covered. Beer Garden is open from 11:00 am to 7:00 pm.

Voyageur Island Biathlon
This four mile paddling/running race will take contestants on a paddle through the chain of islands near Rotary Park and a run through Voyageur Island: the Sault's newest paddle destination.
The Kayak Race will start at 9:00 a.m. and The Stand-Up paddle Boards will start at 9:15 a.m.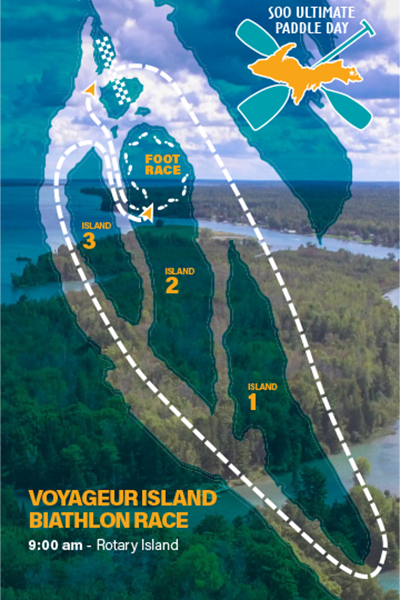 Portaging Portage Race
This two-person race starts with one racer paddling two miles from Sherman Park to Ashmun Bay. Both racers will "PORTAGE" their kayak/paddle board two miles down Portage Avenue (next to the Soo Locks) to the Kemp Marina. The second racer finishes the last leg of the race by paddling two miles from Kemp Marina to Rotary Island Park.
The Kayak Race will start at 10:30 a.m. and the Stand-Up Paddle Boards will start at 10:45 a.m.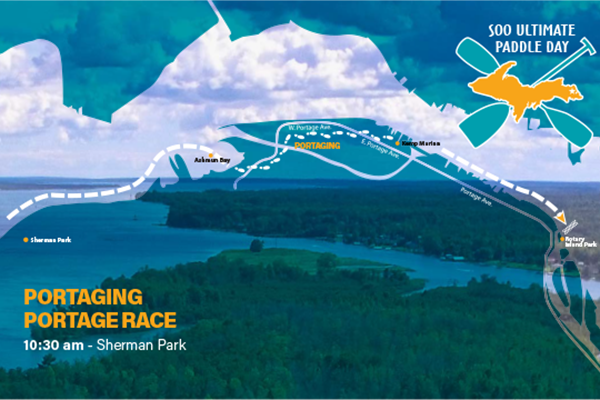 Chain of Island Race
This four mile paddling race with several classes will take racers around the chain of islands and back to Rotary Park.
The Kayak Race will start at 12:30 p.m. and the Stand-Up Paddle Boards will start at 12:45 p.m.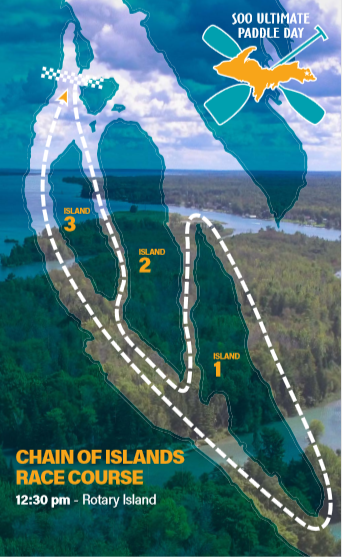 The Soo Ultimate Paddle (SUP) Day committee is excited to offer Michigan Canoe Racing Association's newest C-1 and C-2 Expert I & II sanctioned races. And, only the seconded race offered in the Upper Peninsula. While racing, you have the excitement of seeing the Great Lakes lake freighters up close and personal. You will enjoy all the beauty that the upper peninsula has to offer while racing down the St. Mary's River. There is so much to see and do in Sault Ste. Marie, that you will want to make a weekend of your time here.
Bird's Eye Outfitter's Guided Island Tours 
Enjoy a two hour guided tour starting with a paddle through the chain of islands, followed with a scenic walk through Voyageur Island Park. Bring your own canoe, kayak, or stand-up paddleboard, or rent a kayak on-site (limited qualities available). Groups are small. Call Bird's Eye Outfitters to reserve a spot at 906-259-7121.
Tours leave on the hour, every hour from Rotary Island starting at 11 AM; last tour at 4PM.
Adults $25/Youth $10
Lazy River Float
Paddlers and water lovers of all ages can enjoy this leisurely float down the river's inner channel from Rotary Park to Harvey Marina. TubePro river tube, life jacket, and shuttle service back to Rotary Island provided.
Adults $15/Youth $10
11AM-5PM
g
Rotary Island Rendezvous
Families are invited to a fun-filled day of activities, food and games at Rotary Park. 
-Guided kayak tours to Voyageur Island
-Short's Brewery Beer Garden 
-Squirt gun races
-10 Person stand-up paddle board to rent
-Food and merchandise vendors
-Music
-Lazy River Float
-Canoe Battleship
-Big canoe rides
-Kid's playground
-Watch the lake freighters go by
11AM-5PM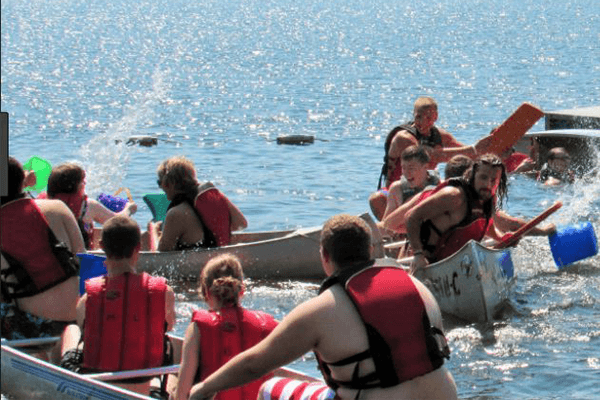 SUP Day – Canoe Battleship
The Soo Ultimate Paddle Day is excited to bring the wet and wild game of Canoe Battleship to Rotary Island. Can you and your crew defeat the five other enemy vessels inhabiting your territorial waters (aka Rotary Island Park Lagoon)? Can you survive each naval encounter by sinking enemy ships using only the water buckets, shields and mystery items at your disposal? Get your team of four together and register today for SUP Day 2018 – Canoe Battleship. Cost $25/team. Battles start at 11:00am – 4pm. 8:00 am Registration day of the event. Space is limited – (Maximum 36 teams) On-line pre-registration is suggested to secure your team's spot.
Youth prices above are for children 5-17 years; under 5 years are free.
A limited number of kayaks will be available to rent from Bird's Eye Outfitters. Call 906-259-7121 to reserve.
Ample parking available at Aune Osborn park.
Appropriate footwear required for Voyageur Island Biathlon (plan for rough terrain).